"Three olive trees" picture light with power bank 110x50cm
Kode:
6416/BUC
6416/EIC
6416/ULM
6416/BUR
6416/SCH
Variante wählen
Detaillierte Produktbeschreibung
LIGHT IMAGE
The light image will become an important accessory to your home. The motif of your choice completes the space which you feel comfortable in. The light unit is open at the back and thus it subtly illuminates the wall of the room. The light image is powered from the mains or there is a battery-powered option. You can order a direct light source for practical purposes, such as reading, it will be attached at the bottom of the light image. We will adjust the size of the light unit according to your needs.
BATTERY-POWERED LIGHT UNIT
The battery powered light unit is the ideal solution if you do not have a 230V cable brought out of the wall or if you are bothered by the visible supply cable to the socket. The light unit is powered by a powerful 30,000 mAh power bank, which can last for several days depending on brightness intensity setting. The brightness is controlled by a manual dimmer on the light unit. Two power banks are always supplied with the light unit. One is inserted in the side of the light unit and the other one is ready in the charger. If the battery runs out, just replace the power bank with a charged one.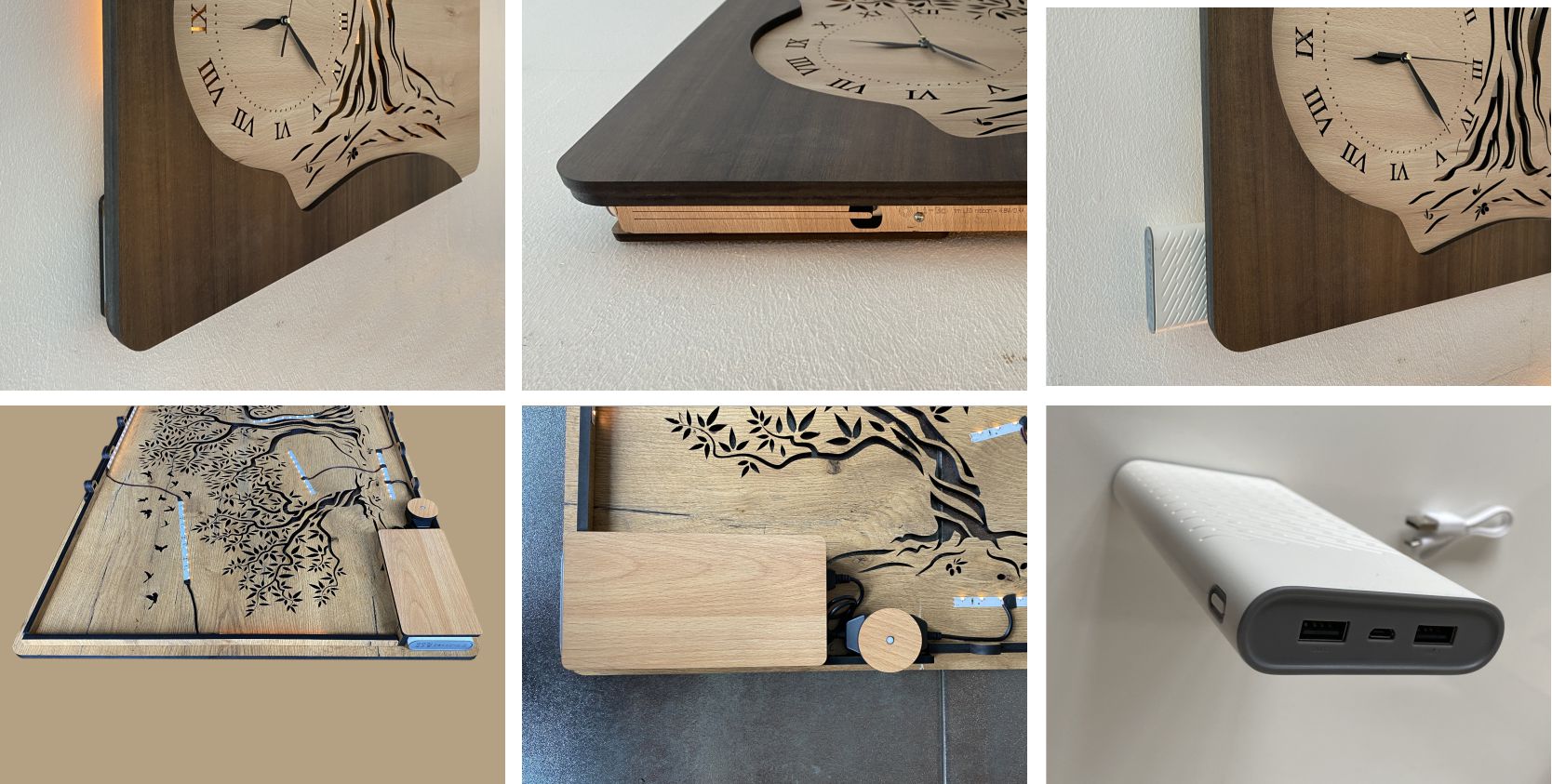 PICTURE LIGHT UNIT COMPONENTS:
1. 2x power bank
2. 1x cable to recharge power bank
3. Two plastic anchores and two hook screws.

REMONTE CONTROL
It is not possible to purchase a remote control to the light unit. The light unit is fitted with a manual dimmer only.
MATERIAL / SURFACE TREATMENT

Composite board 8mm. The board is made of recycled wood pulp. The surface is provide with several melamine layers. This top layer enable surface cleaning, impact and scratch resistance. We currently offer these decors (see photo below).

Note: Some shades of color in illustrative photos may not reflect reality.
Zusätzliche Parameter
| | |
| --- | --- |
| Kategorie: | Picture light with power bank |
| Decor: | according to the choice of variant |
| Decorative light color: | extra warm white + red |
| Power input / current for decorative light: | 1m LED tape 4,8W/0,4A |
| Placed: | on the wall |
| Dimensions (w x h x d): | 110x50x4cm |
| Material: | composite board 8mm |
| Dimmer: | push-button (with last setting memory) |
| The ability to connect a remote control: | is not |
| Input voltage source: | 5V - 9V DC |
| Output voltage/source stream: | 5V DC/2A |
| Source power: | 10W |
| LED diod lifespan: | 100 000 hours at full intensity |
| Weight (kg): | 5,3 |